---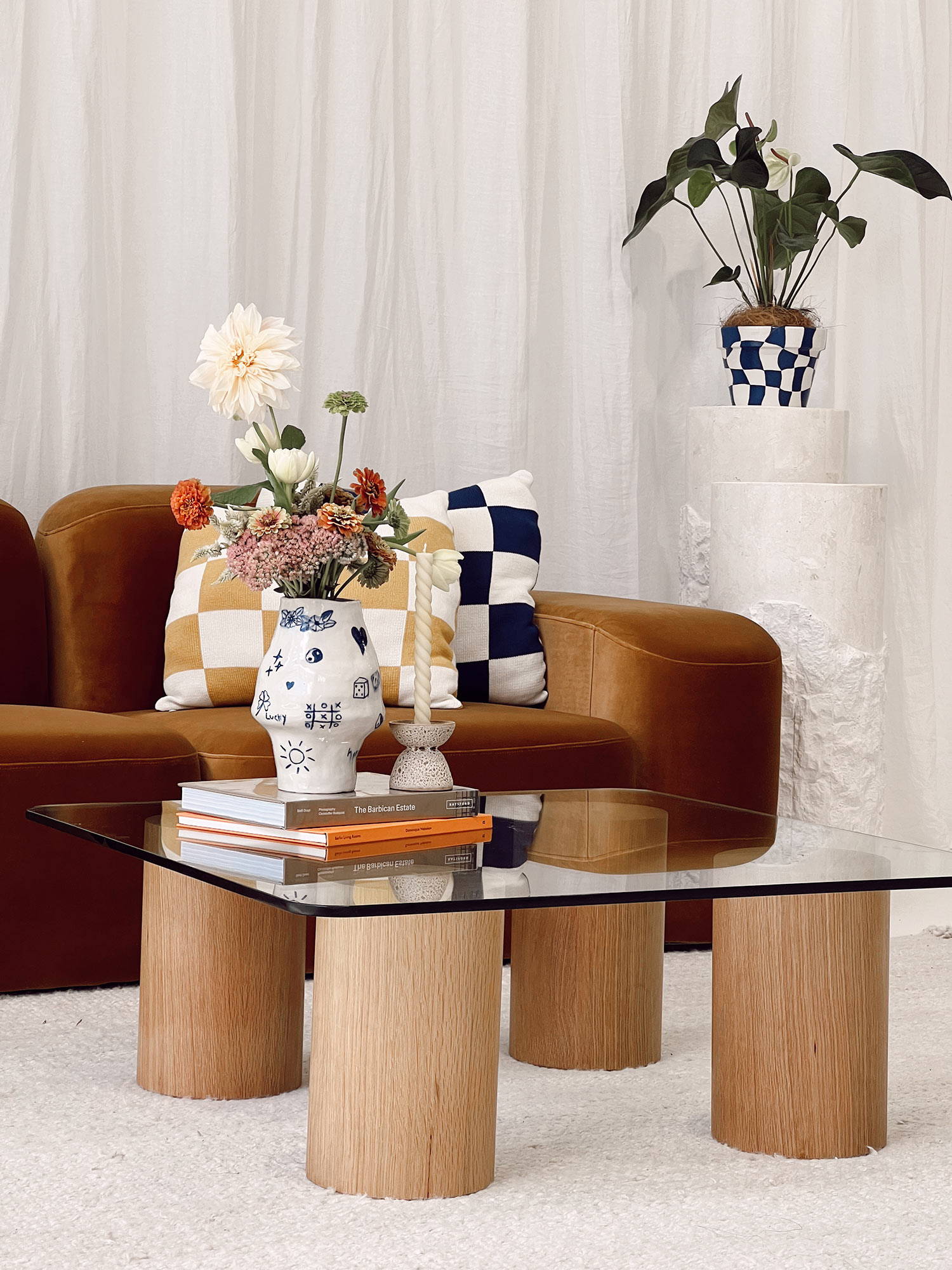 ---
2022 is very much underway now, and while the post-vacay blues may be setting in as we return to work and the daily grind, there is one way to lift your spirits - a little home renovation - well, by switching a few things up and playing with some interior trends.
Refreshing your living room, bedroom or study can really turn a frown upside down, right? Whether you're doing a full-on revamp from walls to flooring, or just adding some cute accessories to liven up your space, there's nothing quite like a bit of nesting to sweep away the holiday blues and feel ready for a new year.
Also, the 2022 interior trends are really fun. Where once everything was about minimalism to the point of "is that furniture, or is it part of the wall?", we're seeing gorgeous pops of colour this year, or - if brights aren't your thing - the blending of exteriors and interiors with nature-inspired tones and materials.
In fact, we've been doing some nesting of our own. Check out our new space - and read about some of the interior trends for 2022 we've been incorporating into it.
---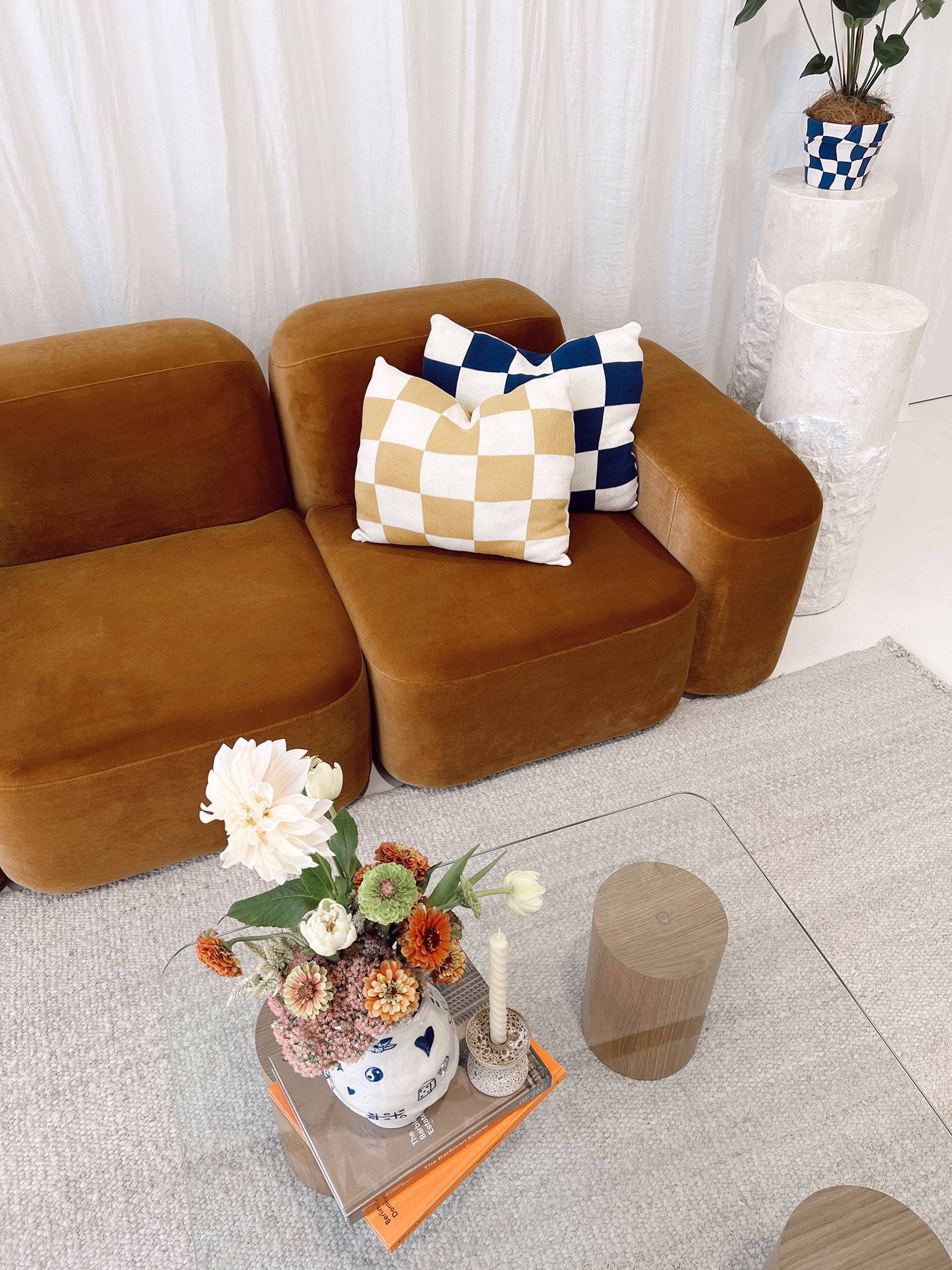 ---
CHECKS
If Architectural Digest is saying a trend is here to stay for 2022, it's here to stay. Part 80s-throwback (remember that chequered kitchen lino in your family kitchen?), part dopamine dressing but for your home, the check trend is fun to play around with because you can go all-out, or keep your space feeling minimalist (with a little fun thrown in).
Want to go big? Invest in a chequered rug like this olive green option via Etsy - green is a popular hue for these, or go for jewel tones like ruby red or cobalt blue. Black and white is also definitely trending, if you want to keep things simple. Just make it more shaggy-retro than flat.
Testing the waters? Chequered wall art is a cute way to play into the trend - Stockholm label KJP make fun ones, and also do throw pillows in chequered patterns, too, if you want to liven up the couch. Another throw pillow label to check (pun intended) out is Emma Mulholland on Holiday. Throws are one of our favourite ways to incorporate the check interior trend into your bedroom or living room - like this psychedelic pick from Brooklyn-based label clr shop.
---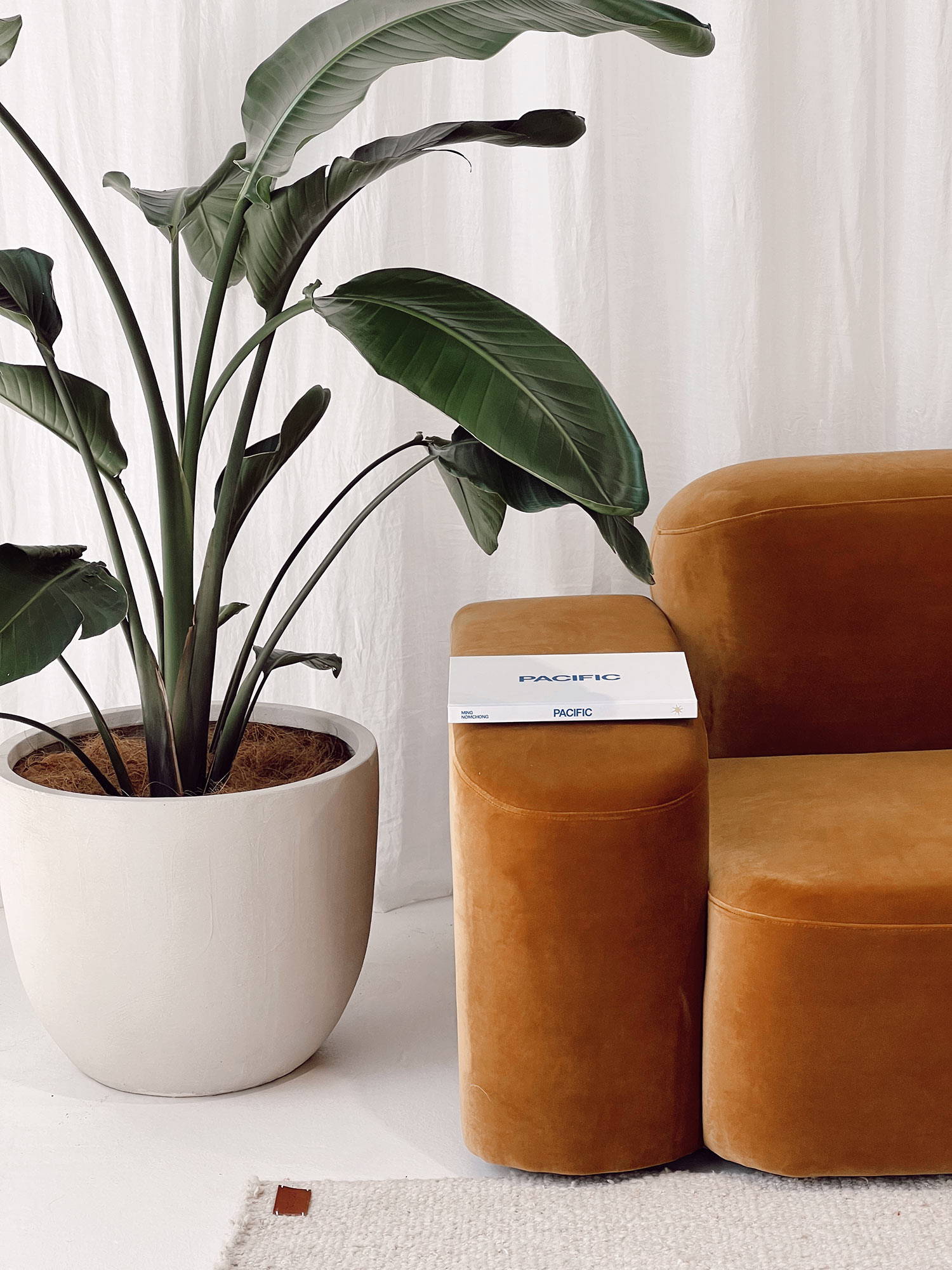 ---
THE EXTERIOR, ON THE INTERIOR
We've long loved a good house plant, but now the incorporation of nature into our indoor spaces levels up. Think nature-inspired tones like olive green, earthy ochre and cinnamon, plus the use of natural fibres and materials like driftwood, linen and cork.
On a large scale, unique furniture formed from natural materials will be huge in 2022. Invest in a beautiful bed frame made of recycled wood, or a rattan coffee table - we can't get enough of the Paloma by Australian designer Sarah Ellison. Consider using driftwood as installation-style art or using dried reeds and other showpiece arrangements instead of your weekly flower bunch.
On a smaller scale, there has never been a better time to pick up some linen bedsheets. You've already had at least one friend wax lyrical about how soft and comfortable they are, right? We love Australian labels Bed Threads, Hale & Mercantile, and Cultiver. All three brands have colourways that will remind you of nature, from rich greens evoking our Australian bushland to deep blue like the ocean at dawn.
---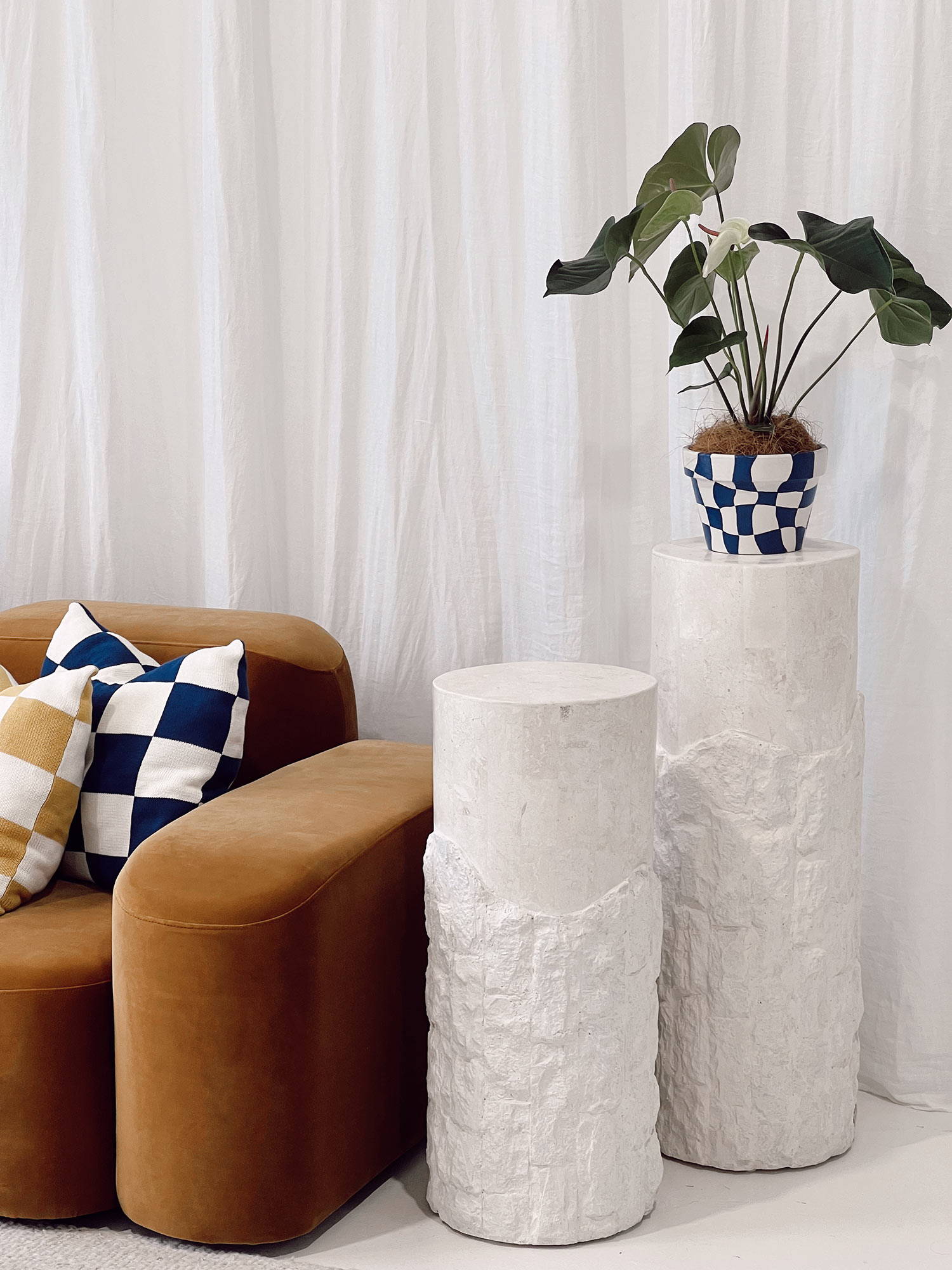 ---
CURVES
Maybe it was the impact of extended lockdowns and being at home more often than ever, but we just want our living spaces to feel soothing and relaxing, right? And what could be more relaxing than soft edges and curved lines.
Furniture is not just designed for physical comfort in 2022, but also for aesthetic comfort. We want pieces that make a room feel soft and welcoming, and curved furniture is doing that and then some.
Again, Sarah Ellison is at the forefront in terms of Australian designers, with the Huggy chair proving to be hugely popular (it really does look like what a hug feels like). We're also in love with this (technically outdoor) stone table by Rodalfo Dordoni, which also plays into the exteriors-interior trend, too.
Want to play around with the curve trend on a smaller scale? Switch throw pillows to circular designs, or look at curved bed heads - these can be an inexpensive way to upgrade your bedroom. This rattan and boucle option from Adairs is heaven.
---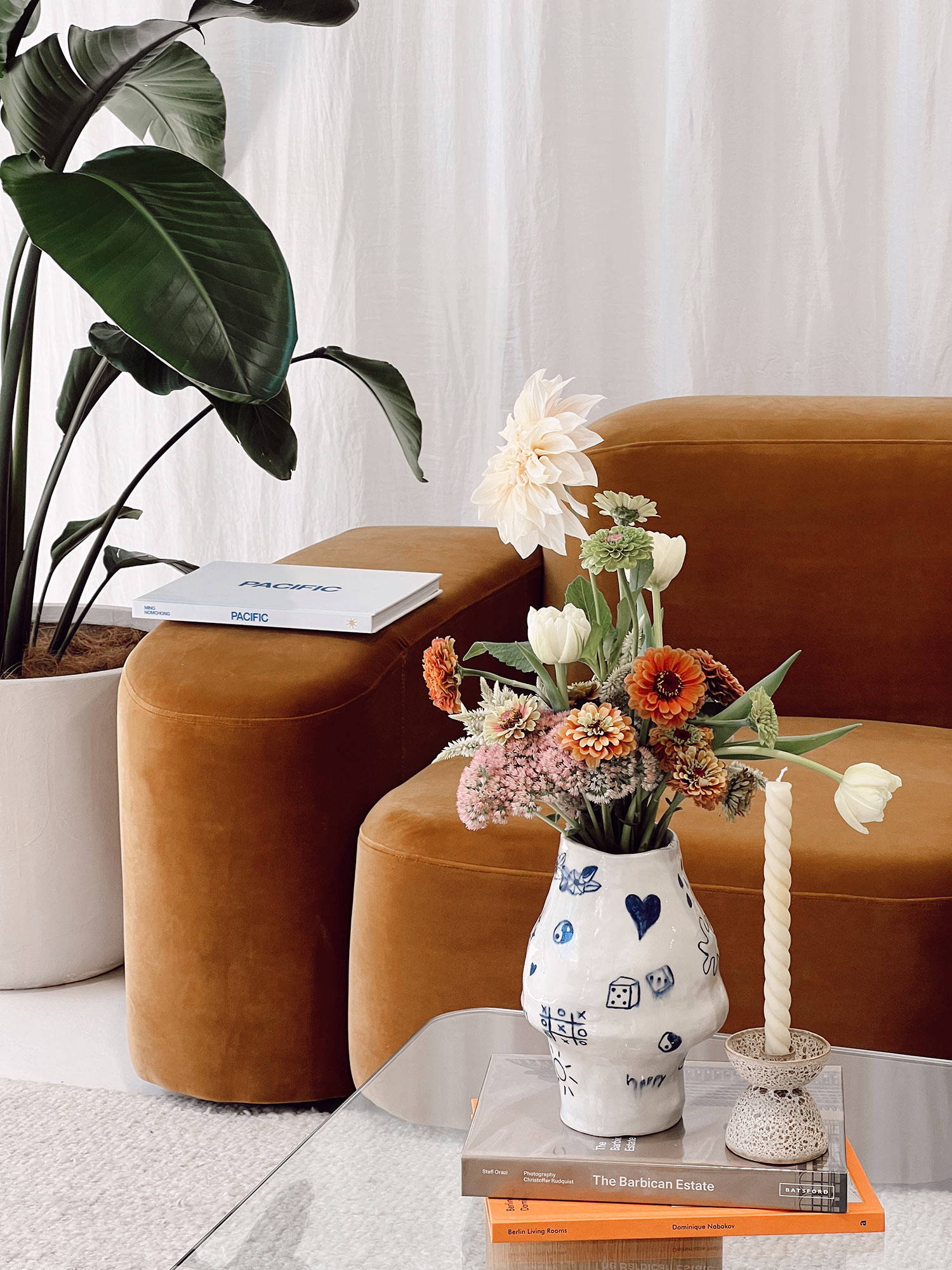 ---
SUSTAINABILITY
The best news about interiors trends in 2022 is that sustainability is a core focus. More and more, we're seeing brands make the commitment to a sustainable future when it comes to production and processes. It's never been easier to purchase more responsibly.
Some sustainably-focused Australian interiors brands we love are Pampa, Five Mile Radius, Koskela and Plyroom, but you can also embrace the sustainability trend without buying anything new. Turn old pots or items you don't love into textured terracotta feature pieces with this TikTok hack that basically makes terracotta paint, or visit your local op shops for vintage furniture pieces - you'll be surprised by the treasures you can find, especially if you visit the larger depots.
Instead of throwing out old sheets, donate them to animal shelters (they often need old sheets and towels for animal bedding) and think about how you can reduce landfill by reworking or repurposing items you no longer love. Reupholstering couches and chairs, for example, can completely transform your space - and means you save money and some landfill space.
These are our tips & tricks to incorporate new season interior trends into your space however it is still important to ensure a space feels like YOU. Happy styling!
---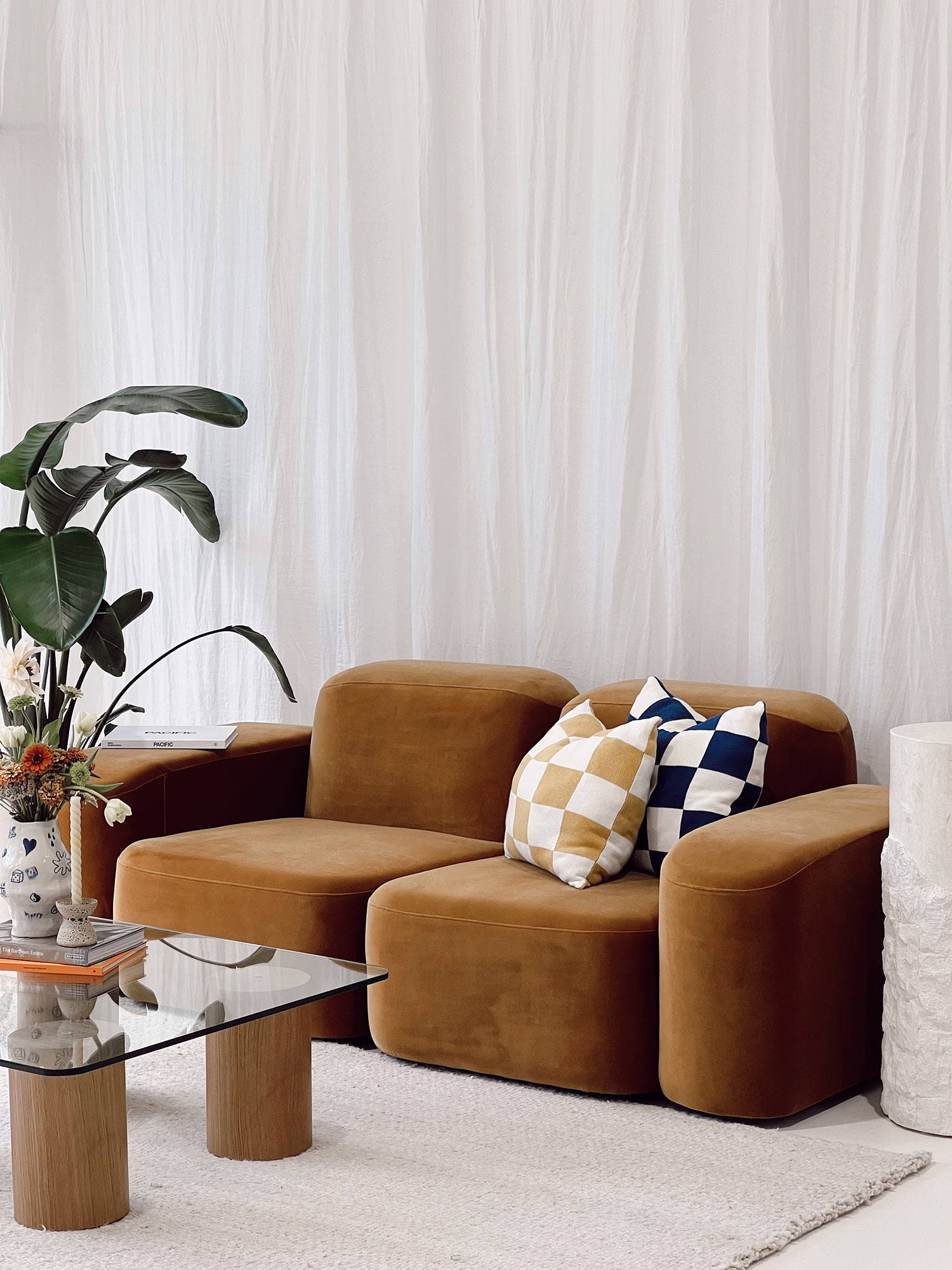 ---